Talks And Demonstrations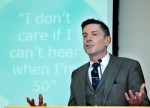 Talks and demonstrations
The Musicians Hearing Services team give regular talks and demonstrations on education and technology development in all areas of hearing (audiology). We regularly provide advice and support to band members in West End theatre productions and have recently taken part in workshops at the Royal Opera House, where we are trialling the latest technology in active hearing protection.
Recently Paul Checkley, our Clinical Director, was invited as a guest speaker at University College London, Ear Institute for the Masterclass in Advanced Amplification and Rehabilitation. Other contributors included Mezzo Soprano, Janine Roebuck , Guardian entertainments editor, Nick Coleman and Professor Todd Ricketts, from Vanderbilt University in Tenessee, USA. The day focussed on the specific needs of musicians with hearing loss and strategies to implement hearing protection programmes in the music and entertainment industry. Also on the agenda was the latest technology designed to improve the quality of amplified music and tips for clinical audiologists in the assessment and treatment of musicians.
 With Musicians Hearing Services you and your colleagues can benefit from our up-to-date knowledge on advances in hearing protection and all the latest state-of-the-art hearing technology. Call us on 020 7486 1053 for more information.