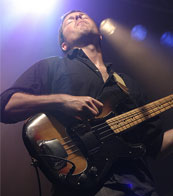 The boominess of my bass disappeared, with the result that I could clearly hear every note as I played it.  I was able to play as tightly as I have ever played without any strain or effort.
Best of all, after each gig I was able to fall into bed without the usual ringing in the ears and feeling of being noise-battered.  The whole experience was far more enjoyable and less fatiguing,
Custom earplugs are an incredible piece of kit that I would recommend to any musician.  I intend never to play a gig without them again.
Ben McKeown
The Mustangs